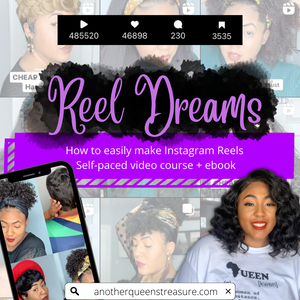 Reel Dreams Video Course & Ebook
The Reel Dreams Video Course and Ebook explains how I easily plan, create, and edit Instagram Reels. I teach you how to gain income from Instagram reels content and more in my step by step beginners guide. This course includes a video portion, explaining and displaying how I film my reels for instagram. It also includes 2 editing tutorials within the apps I use to edit my Instagram reels.
Table of Contents:
How to Plan Your Reels and Make Income 
Tips to planning different styles of reels and a guide on how reels can create income.
        2. How to Create Reels Easily at Home
Step by step tips for creating, filming, and editing your reels including how to come up with ideas, choose your audio, and an editing tutorial.
        3. Tips for Posting Reels Successfully 
A list of Instagram reels do's and don'ts every creator needs to see and the steps I take when creating reels and after you post them
Number of Pages - 19
Number of Chapters - 3
Book Format - Video & Downloadable Ebook